To place your NVMA Classified Ad listing Equipment for Sale or Practices for Sale, or "Want to Buy," contact the NVMA office at 402-463-4704. (Return to the NVMA quarterly newsletter Veterinary Views).
For Sale: Animal Health, Feed and Ranch Supply Store
This is an opportunity to purchase an established, turnkey large animal health, feed and ranch supply store. Lancaster Livestock Supply is located in Cody, Nebraska, and serves customers in Nebraska and South Dakota. It offers a variety of products and services including: cattle vaccines & pharmaceuticals, animal health supplies, For-most livestock equipment, Sioux Steel equipment, Behlen livestock equipment, Hastings tanks, livestock feeds, customized minerals, Vitalix tubs, fencing materials, Red Brand wire, Bekaert wire, well supplies, horse vaccine and supplies, saddles, ropes, tack, western decor, jewelry and gifts. The building is designed to accommodate either a large animal clinic, a small animal clinic or a combination. Call 402-376-2000 or visit www.heartlandcountry.net for more information.
Want to Buy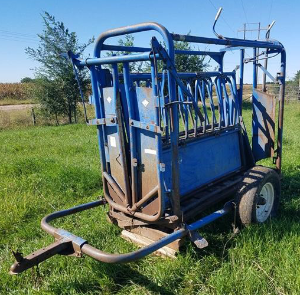 Looking for a portable squeeze chute similar to Priefert chute in photo.
Dr. Annette Bredthauer
Belleville, KS