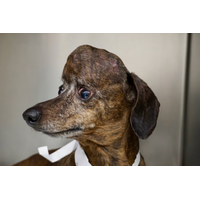 Last year, Patches the dachshund earned the nickname Little Unicorn after she developed a large tumor that jutted out of her forehead.
Now, with the tumor gone, her Pennsylvania family calls her Titanium Top.
Those terms of endearment for the 9-year-old dog trace the narrative of how Patches became a case study in 3-D medical printing, a developing frontier in the field of reconstruction surgery in animals. Read more here.
---