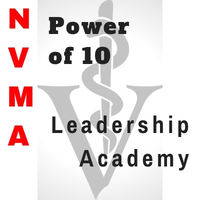 Prepare to become a better you in 2020 with the NVMA's Power of 10 Leadership Academy.
The Power of 10 program is taking applications from young veterinarians and Licensed Veterinary Technicians. The application deadline is January 1, 2020 -- next week. This program will enhance your life and your career. Click here for details.
---
CPA and Financial Planner is Among Conference Speakers
Fritz Wood, Certified Public Accountant and Certified Financial Planner, is among the speakers for the NVMA 2020 Annual Conference.
Connect with your colleagues, take advantage of great CE opportunities and spend some time in Lincoln at the conference. Click here to begin your registration.
---