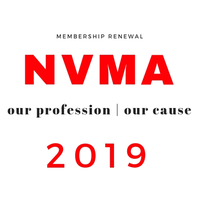 VETERINARY MEDICINE IS A CAUSE WORTH ADVANCING. ALL MEDICINE IS NOT THE SAME. We believe it is vital for our profession to have a voice. Don't you? We hope you will stay with us in 2019!
We advocate for change that moves veterinary medicine and animal health forward. Your NVMA membership gives a voice to our profession. Together, we're continuing to advance the cause.
Nebraska Veterinary Medical Association membership renewal notices for 2019 will be distributed next week. Watch your in-boxes for the email.
Our Profession | Our Cause
Members who have renewed their memberships for 2019 qualify for the membership discount on the registration fee for the NVMA Annual Conference. After you have renewed your membership for 2019, you will receive information on how to register for the Annual Conference.
---
NVMA Annual Awards Nominations Are Open
Nominations are open for the NVMA Annual Awards program.
The NVMA Awards Committee is taking nominations in five categories, and nominations also are being accepted for the NVMA Animal Hall of Fame. The nomination deadline is November 1.
Click here for information about the awards program and links to nomination forms.
---