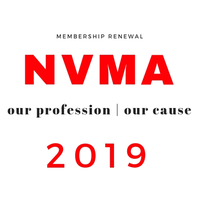 Dear fellow veterinarians and veterinary technicians,
The time has come for me to ask for your continued financial support of the Nebraska Veterinary Medical Association.
Your support is greatly appreciated and needed. Veterinarians and veterinary technicians are fewer in number than members of other professional organizations. In order for our voice to be heard, and to keep up on legislative changes that may affect us, we need financial support from the members. There were 37 bills introduced/carried over that the NVMA monitored in 2018. Please commit once again to our profession with your payment of the dues to renew your membership. Membership renewal notices will go out this week. Watch your email in-box (or your snail-mail mailbox if you asked us to send you hard copy) for information on renewing your membership for 2019.
When the Board of Directors met on September 20, 2018, we voted to have an increase in the dues amount for member veterinarians. The last increase was in 2009, and as we all know too well, the cost of everything (convention costs, hotel rooms, travel for speakers, support staff, lobbyists) continues to increase annually in the amount of 3-5% per year. We decided to increase the dues by 3% for veterinarians beginning in 2019 and continuing each year thereafter.
I hope to see you for the winter conference in Kearney which will be held January 24th through the 26th, 2019. I am excited to report the CE Committee listened to the ideas brought forth by the membership and are planning a different event in place of the formal banquet at this conference. The evening will be fun and enjoyable with a focus on camaraderie and relationship building. There will be no emphasis on gender, age, scope of practice, etc. Just a wonderful, non-competitive experience for all involved. When you renew your membership for 2019, you receive a discount on the Annual Conference registration.
In closing, as the year reaches its end, I am considering nominations for the position of Secretary/Treasurer to be included on next year's ballot. This individual, if elected, would serve one year each in the positions of Secretary/Treasurer, President Elect, President, and Immediate Past President. If you would like to serve the association in this manner, or know of a colleague who would be great at this, please contact me through the NVMA website or give me a call at 402-462-2234. As you may already know, nominations will also be accepted at the summer 2019 business lunch.
As always, thank you for allowing me to serve you and our profession!
Warm regards,
Dr. Victoria Winfield
2018 NVMA President
---