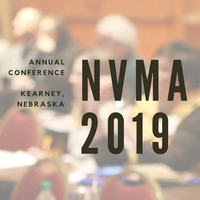 The Nebraska Veterinary Medical Association (NVMA) Annual Conference early-registration discount ends on December 10. You get the additional member discount if you renew your membership now for 2019 (or join the NVMA).
Click here to renew your membership or join.
The Annual Conference is January 24-26, 2019 at the Younes Conference Center in Kearney. Your Continuing Education Committee has assembled a full lineup of small animal, technician and large-animal CE.
The small-animal presenters are:
Valarie V. Tynes, DVM (Sponsored by C​EVA)
Dr. Valarie Tynes is a native Texan and received her DVM from Texas A&M University. She worked in private practice for 14 years before returning to academia to pursue a residency in clinical animal behavior at the University of California at Davis in 2000. She has been a diplomate of the American College of Veterinary Behaviorists since 2003 and is currently President-Elect of the College. Her special interests are the behavior and welfare of pet pigs, exotic pets and zoo animals. She is a frequent speaker at veterinary meetings around the country and author of numerous articles and textbook chapters.
Tina Wismer, DV​M
Dr. Tina Wismer is a Purdue graduate. She works at the ASPCA Animal Poison Control Center. Dr. Wismer is a Diplomate of the American Board of Toxicology and American Board of Veterinary Toxicology. She is an instructor at the University of Illinois, a consultant for VIN, and a Master Gardener.
Technician CE:
The Licensed Veterinary Technician CE segment covers fear-free handling, common behavior problems in dogs and cats and puppy training. It will be presented by Laura Bahns, DV​M, a 2003 graduate of the Iowa State University College of Veterinary Medicine. She currently practices in a small animal private practice/specialty center in eastern Iowa. She is fear-free certified and she does behavioral consultations.
A variety of topics will be covered in the Large-Animal CE sessions.
Large-Animal CE presenters include:
Manuel Chamorro, DV​M
Dr. Chamorro is originally from Colombia where he grew up in a small dairy farm. He obtained his DVM from the National University of Colombia in 2003. After 4 years of private dairy practice in Colombia, Dr. Chamorro moved to the United States to start an internship program in Food Animal Medicine and Surgery at Kansas State University. After finishing his internship in 2008, Dr. Chamorro moved to Auburn, AL to pursue a residency program in Food Animal Internal Medicine at Auburn University. He is currently at Auburn University as an Assistant Professor of Food Animal Medicine and Surgery.
Travis Mulliniks, DVM
Dr. Travis Mulliniks is an Assistant Professor in Range Production Systems at the University of Nebraska and located at the West Central Research and Education Center in North Platte, NE. He grew up on a cow-calf operation in eastern Oklahoma and received his BS degree in Animal Science from Oklahoma State University. In addition, he earned a MS and PhD in Range Nutrition from New Mexico State University. Dr. Mulliniks' research and extension objectives consist of developing an applied cow-calf research program that emphasizes sustainability and economically viable management options through enhanced efficiency, productivity, and strategic nutritional management in beef cattle production.
Brian Vander Ley, DV​M
Dr. Vander Ley received his DVM from Iowa State University and his PhD in Veterinary Microbiology and Preventative Medicine from Iowa State in 2012. He is the Assistant Professor and Veterinary Epidemiologist at Great Plains Veterinary Educational Center with the responsibilities of engaging in research and extension outreach activities to benefit livestock producers and veterinarians as well as veterinary student education.
Honey bees in Nebraska:
The conference will feature programming on honey bees in Nebraska and the role of veterinarians in honey bee health, presented by the University of Nebraska-Lincoln's Judy Wu-Smart, PhD.
Dr. Wu-Smart received her BS in Zoology at Humboldt State University, Arcata, California. She received her MS in Entomology at Washington State University under the advisement of Drs. Walter Sheppard and Carol Anelli. She continued on to a PhD program with Dr. Marla Spivak at the University of Minnesota. She's currently an Assistant Professor and Extension Specialist at the University of Nebraska-Lincoln (UNL). In her role at UNL, Judy is developing a pollinator health program to help understand the underlying stressors in bee health and their interactions with environmental toxicants.
Click here to renew your membership or join.
---