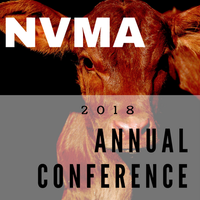 The Nebraska Veterinary Medical Association (NVMA) 2018 Annual Conference is Jaunary 25-27, 2018, at the Embassy Suites La Vista Conference Center. A Joint Session on Friday, January 26, will provide you with valuable information about the implementation of the Nebraska Prescription Drug Monitoring Program (PDMP) for veterinarians.
Conference registration opens at the end of this week, coinciding with the start of the NVMA 2018 membership renewal campaign. NVMA members who have renewed their memberships for 2018 qualify for the member discount on the conference registration fee. If you did not select automatic membership renewal last year, you will receive an email membership renewal notice later this week. When you renew your membership for 2018, we will send with your email receipt the information you need to get the conference registration member discount.
Those who wish to pay for more than one NVMA membership with a single hard-copy check, or who just want to get a head start on renewing their memberships for 2018 may download and print out a membership renewal form here.
The Annual Conference Joint Session from 4 p.m. to 5 p.m. on January 26 will be presented by Kevin C. Borcher, Pharm.D., PDMP Director for the Nebraska Health Information Initiative (NeHII), and Felicia Quintana-Zinn, Prescription Drug Overdose Prevention Epidemiologist for the Division of Public Health at the Nebraska Department of Health and Human Services.
The Nebraska PDMP is used for patient safety and to help prevent the misuse of controlled substances. Beginning July 2018 veterinarians will be required to report dispensed controlled substances to the PDMP. This session will enhance your understanding of the program benefits as well as the process.
---
Important upcoming dates:
Fall Scholarship Applications
The fall deadline to apply for Centennial Scholarship Foundation student scholarships is October 15, 2017. Details here.
NVMA Annual Awards
The deadline for nominations for the NVMA's annual awards program is November 1, 2017. Details here.
Pet Hero Nominations
We are still looking for nominations for the NVMA Animal Hall of Fame. Details here.
---