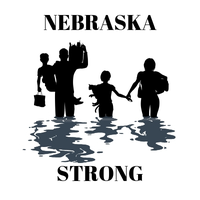 Tax Commissioner Grants Relief
The Nebraska Department of Revenue has posted a news release, Nebraska Tax Commissioner Grants Specific Relief for Adversely Impacted Nebraskans, to the website
Antibiotic Product Crisis Relief for Nebraska Cattle Producers
The current flooding and detrimental weather conditions in Nebraska are having a severe negative impact – and in some cases devastating effects – for many cattle producers and their operations.
Merck Animal Health (MAH) is here to help. We take our partnership role with producers and industry associations very seriously. Effective immediately, MAH is making available $50,000 of Zuprevo™ and Banamine® Transdermal to producers in affected areas on a first-come, first-served basis until product is depleted.
Process to obtain product
For producers that need these products, we will work through veterinarians to get requested product to producers. More specifically:
The veterinarian has two options available to make requests and get product to producers:
Pull from their current Zuprevo/Banamine Transdermal inventory and MAH will reimburse with the free product.

Order the free product ahead of the need.

To order and arrange shipment of product, contact Katelyn Minette Corsentino at katelyn.corsentino@merck.com, office (402) 593-2479, or cell (225) 788-5880.
---
Nebraska Department of Agriculture Assistance Line
We are aware that many of you are dealing with livestock that have been through blizzards and flooding. The Nebraska Department of Agriculture is working to help producers that have been impacted. If you know of a producer in need of supplies – please have them call 800-831-0550.
We have numerous veterinarians in other states that have offered to provide medications, dressings, etc. to any Nebraska veterinarians that are in need of supplies. If you need supplies – please call 800-831-0550 or email christin.kamm@nebraska.gov.
---
Resources from AVMA
https://www.avmf.org/programs/disaster-relief/
---
Additional Resources
University of Nebraska-Lincoln resources may be found here.
Additional resources are in the attached documents.
---