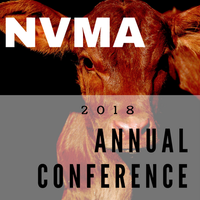 The Nebraska Veterinary Medical Association (NVMA) Continuing Education Committee has assembled a strong lineup for the Annual Conference, which will be held January 25-27, 2018 at the Embassy Suites La Vista Conference Center, La Vista, Nebraska.
Among the CE speakers is Calvin W. Booker, DVM, of Feedlot Health Management Services in Alberta, Canada.
Dr. Booker will present on Large Animal topics, including Practical Application of Epidemiology in Feedlots and Calf Grower Operations, Lifetime Wellness and Real-Time 365 Monitoring in Animal Production, Decision-Making in Cattle Production and Treatment Protocols.
Registration for the Annual Conference will open at the end of next week, coinciding with the opening of the NVMA campaign for 2018 membership renewals. NVMA members who have renewed their memberships for 2018 qualify for the member discount on the registration fee. If you did not set up automatic membership renewal last year, you will receive an email membership renewal notice. We will begin sending those notices next week. When you renew your membership for 2018, we will send you the information you need to get the conference registration member discount.
---