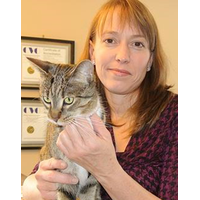 Feline medicine is in the spotlight during the small-animal CE session at the Nebraska Veterinary Medical Association (NVMA) Annual Conference January 25-27, 2018, at the Embassy Suites La Vista Conference Center.
Conference registration opens at the end of this week, coinciding with the start of the NVMA 2018 membership renewal campaign. NVMA members who have renewed their memberships for 2018 qualify for the member discount on the conference registration fee. If you did not select automatic membership renewal last year, you will receive an email membership renewal notice within a few days. When you renew your membership for 2018, we will send with your email receipt the information you need to register for the conference at the member discount price.
Those who wish to pay for more than one NVMA membership with a single hard-copy check, or who just want to get a head start on renewing their memberships for 2018 may download and print out a membership renewal form here.
The small animal CE presenter on Thursday-Friday, January 25-26 is Kelly A. St. Denis, DVM, MSc, ABVP, (@catvetskelly) full-time clinician at the Charing Cross Cat Clinic in Ontario, Canada. She has been certified with the American Board of Veterinary Practitioners in feline practice since 2013. Dr. St. Denis is a consultant on VIN, as well as a Director on the board of the AAFP. Her NVMA sessions will cover topics in feline medicine such as chronic kidney disease, understanding and treating FIC, understanding the hypercalcemic cat, a practical approach to the vomiting cat, and how to be feline-friendly at home and in the practice.
---
Important upcoming dates:
Fall Scholarship Applications
The fall deadline to apply for Centennial Scholarship Foundation student scholarships is October 15, 2017. Details here.
NVMA Annual Awards
The deadline for nominations for the NVMA's annual awards program is November 1, 2017. Details here.
Pet Hero Nominations
We are still looking for nominations for the NVMA Animal Hall of Fame. Details here.
---