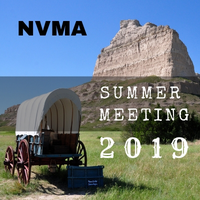 Kaw Valley Insurance representatives will be available at the NVMA Summer Meeting in Gering, Neb., next week to discuss details of the NVMA's health and wellness program.
The Summer Meeting is June 10 - 12, 2019 at the Gering Civic Center, 1050 M Street, Gering 69341 (308-436-6888 | 800-998-8921).
Enjoy the Fun Day activities and enhance your career with CE offerings.
Here's what you need to register:
Downloadable hard-copy registration materials
---