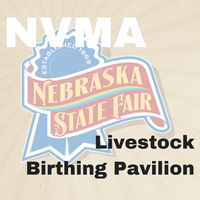 We have had a wonderful response so far in our call for volunteers for the Nebraska State Fair Livestock Birthing Pavilion. We have more spots to fill, so please help! NVMA volunteer spots are open to veterinarians, technicians and veterinary students.
The dates run from Friday, August 24 to Monday, September 3. There are three shifts per day that run 9 a.m. – 1 p.m., 1 p.m.– 5 p.m. and 5 p.m. – 9 p.m. A scrub top will be provided for you. The state fair will provide entry tickets for you and your family.
Please contact Dr. Missy Lemons at 308-382-6330 or Crystal Lewandowski at 308-382-6330 if you have any additional questions.
Thank you in advance for your continued support of this public awareness event.
---
AVMA Launches Website for Veterinary Students, Early Professionals
As part of its ongoing commitment to veterinarians at all stages of their careers, the AVMA has launched a new website to help guide veterinary students and early career veterinarians with the transition from veterinary school to their professional careers. MyVeterinaryLife.com was developed to gather, organize and share information and resources addressing the specific needs of students and early career veterinarians. Visitors to MyVeterinaryLife.com will find resources and tools to help develop their careers, maintain their wellbeing and manage the financial stresses of personal and professional life. Visit MyVeterinaryLife.com.
---