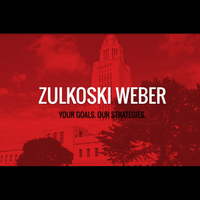 FROM NVMA LOBBYING FIRM ZULKOSKI WEBER
Good news to report from Lincoln – the Nebraska Legislature adopted their rules in two days. Two years ago, our office sent weeks and weeks of reports that noted the rules had not been adopted and debate could not progress. This legislative body's willingness to proceed is a great reminder that we have a new body with a new approach toward legislating.
The first bills of the session have already been advanced out of committees and starting today, are being debated on the floor. It's a good thing debate is underway because the Legislature has a lot of work in front of it with 749 bills being introduced – the most bills introduced in a single year since 2005. Great news for the NVMA, the Agriculture Committee has already advanced LB 61, the bill that allows the Department of Health and Human Services to adopt updated rabies vaccinations standards according to Compendium of Animal Rabies and Control. This quick advancement of the bill will help ensure the bill can be addressed on the floor of the Legislature early this session. Thanks to the co-chair of the Legislation Committee, Dr. Bruce Brodersen of Lincoln who came to testify in support of the bill on behalf of the NVMA.
Out of these 749 bills, we selected a number that impact the practice of veterinary medicine and reviewed those bills with the NVMA Legislation Committee on Wednesday evening. These bills are summarized in the attached chart with links to the text of the legislation and the position the committee took (if any) on each of the bills. The chart also notes what committee the bills have been assigned to and if a hearing date has been set.
CLICK HERE TO REVIEW BILLS OF INTEREST
Tuesday marked the first day of committee hearings, and as noted above, LB 61, the NVMA rabies update legislation was the first bill heard on the first day of Ag Committee hearings. Besides rabies, other committees are also taking on big topics in their first week of work, including medical marijuana and increased income taxes on high income earners.
We look forward to reporting to you next week on the advancement of NVMA Legislation, LB 61 and other hearings of interest.
Enjoy the weekend,
Katie and Michelle
---