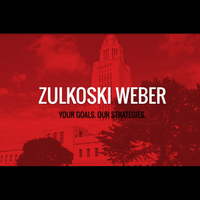 FROM NVMA LOBBYING FIRM ZULKOSKI WEBER
This week the Legislature moved 23 bills from General File (the first of three stages of floor consideration) and even 8 bills through Select File (the second stage of debate). Committees continued hearings and took action to advance more bills. The Unicameral is 17 legislative days into the 90-day session with much of its work ahead. This morning Appropriations Chairman John Stinner shared with his colleagues that he expects there to be no money left over from the budget for Senators to use on new spending measures. Speaker Jim Scheer encouraged members to consider priority bill designations in light of our fiscal situation; he will hold all bills with a negative fiscal impact on Final Reading until the budget is adopted. He cautioned, "If you are interested in having a priority bill that passes this session, I would suggest you designate a bill which does not carry a general fund impact." Speaker Scheer also reaffirmed how he will be handing procedural motions under the rules. He will entertain cloture motions to end a filibuster after 6 hours of debate on General File, 3 hours of debate on Select File, and 90 minutes of debate on Final Reading, unless he discerns, in consultation with the introducer and main opponents of the bill, that full and fair debate has occurred sooner. He will also follow his practice of the "3 hour rule," limiting debate to 3 hours for bills which will require a cloture motion to stop debate. After the initial 3 hours, he will place a "Speaker's hold" on the bill and only reschedule the bill if the introducer provides a vote count indicating a cloture motion would be successful.
We continue to track the status of all bills of interest. Please let us know if you have questions on any of these measures.
CLICK HERE TO REVIEW THE BILLS OF INTEREST
Among the bills that are progressing through the Legislative process is the Nebraska Veterinary Medical Association legislation, LB 61. Senator Halloran, Chair of the Agriculture Committee, introduced LB 61 at the request of the Nebraska Veterinary Medical Association to allow the Department of Health and Human Services to adopt updated rabies vaccinations standards according to Compendium of Animal Rabies and Control. There will be two more stages of voting on the bill, but with no opposition to the bill in committee or through the first round of "debate" we are hopeful the bill will continue to sail.
Happy weekend,
Michelle and Katie
---