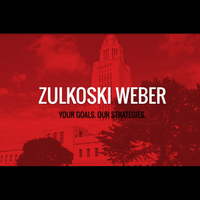 FROM NVMA LOBBYING FIRM ZULKOSKI WEBER
This week at the Nebraska Legislature was marked by the release of the Appropriations Committee preliminary budget report, followed by the meeting of the Nebraska Economic Forecasting Advisory Board, which lowered the revenue predictions for this fiscal year and the next two by about $110 million.
"Ultimately, the next two-year budget will be built on the April forecast after final individual income tax receipts have been reported," Governor Ricketts said. While there is some optimism that the April 25th forecast will improve the fiscal outlook for this legislative session, any bills carrying fiscal notes will continue to be stalled for now.
Morning floor debate continued this week with the body making progress on a number of measures. Importantly, the Legislature gave final approval to NVMA's legislation, LB61 introduced by Senator Halloran, to update Nebraska's rabies statutes. We look forward to Governor Ricketts signing this bill into law!
Afternoon hearings continued this week on a number of bills of interest to NVMA:
LB507 (Briese) Impose sales tax on certain services and eliminate sales tax exemptions
This bill is yet another iteration of Senator Briese's proposals to find revenue to add to the Property Tax Credit Fund. One provision would subject to sales tax "the gross income received for animal specialty services and pet-related services, including, but not limited to (i) veterinary services, (ii) specialty services performed on livestock as defined in section 54-183, and (iii) animal grooming performed by a licensed veterinarian or a licensed veterinary technician in conjunction with medical treatment."

NVMA provided testimony in opposition to the bill and joined a coalition in sending a letter opposing the service sales tax provisions.
LB736 (Murman) Provide restrictions on occupation taxes, license fees, and regulation by counties and municipalities
LB736 prohibits cities, villages, and counties, beginning January 1, 2020, from: imposing an occupation tax or license fee greater than $25; imposing an occupation tax or license fee on a profession or business the provides goods or services unless the profession or business was subject to such a tax or fee on January 1, 2020; and imposing licensing requirements on professions or businesses subject to state licensing requirements.

The fiscal note said the city of Imperial estimates a reduction in revenue in FY 20-21 of $2,900, and the City of Lincoln estimates a reduction in revenue in FY 20-21 of $31 million.

Senator Murman said too many layers of permits and fees makes it difficult for people to work, especially to do business in multiple towns.

NVMA submitted a letter in support of the bill, and the Platte Institute, which provided proponent testimony, highlighted the $100 professional license fee in Gretna that includes veterinarians, among others. An electrical contractor from Fremont also testified in support, discussing the fees charged that do not serve any benefit related to the profession. Other supporters included the Foundation for Government Accountability (fees are barriers to work) and a small family plumbing business owner (sharing the challenges of working in multiple municipalities that impose fees).

There was great opposition from local entities, including the city of Lincoln (occupation taxes are big source of city revenue), city of Omaha (occupation taxes fund economic development and licensing fees serve some health and safety purposes), the League of Nebraska Municipalities (willing to address licensing fees, but opposed to a cap on occupation taxes), the Nebraska Association of County Officials (this would be a barrier to property tax relief), United Cities of Sarpy County, and Greater Nebraska Cities.

In closing, Senator Murman said his intent is to focus on licensing fees tied to professions, not occupation taxes.
LB382 (Geist) Change the Dog and Cat Purchase Protection Act
LB382 requires that sellers have available for customer review a certificate containing required information on the pet being purchased, requires pet shops to maintain documentation on pets for the duration of the pet being housed at the shop and for at least a year after sale, and prohibits pet shops from knowingly selling inbred dogs. The bill prohibits municipalities from enacting law to regulate activity governed by this statute.

Senator Geist said the bill was brought to her by Citizens for Responsible Pet Ownership and is meant to protect Nebraskans from "radical groups" like HSUS pushing their agenda. There have been more than 200 restrictive pet store measures passed nationwide, generally limiting pet stores to only selling shelter or rescue animals, mostly at the municipal level. California's statewide law became effective at the beginning of this year.

Mike Gonidakis, an Ohio attorney working for Citizens for Responsible Pet Ownership, was the sole proponent of the bill, saying the bill supports consumers getting pets by the means they wish to.

Opponents included the presidents of both the Nebraska Humane Society and Capitol Humane Society of Lincoln, expressing opposition to preventing local governing authorities from passing ordinances more restrictive than this bill as needed to protect animal and public welfare. The City of Omaha, which used the Nebraska Humane Society for animal control, expressed support for the Humane Society's position. Other individuals testified in opposition, expressing concerns about puppy mills.
The Unicameral Update provided coverage on the hearing:
Preemption of local pet store ordinances proposed
The Agriculture Committee heard testimony Feb. 26 on a bill that would bar municipalities from enacting ordinances to regulate pet stores.
The Dog and Cat Purchase Protection Act requires pet shops, dealers or commercial dog or cat breeders to give purchasers a disclosure statement containing information about their new pet at the time of sale, including its date of birth, sex, vaccination records and a record of any serious health problem that does or may adversely affect the animal.
LB382, introduced by Lincoln Sen. Suzanne Geist, would require sellers to make that statement available for customer review. It also would require pet shops to maintain records documenting the source of each pet for at least one year after its sale.
Additionally, the bill would prohibit pet shops from knowingly selling a dog that was produced by inbreeding or linebreeding a dog with its own parent or offspring.
As introduced, LB382 would prohibit municipalities from regulating pet shops.
Geist said the additional records requirements would protect Nebraska consumers and that bill also would shield pet stores from potential action by local governments to restrict the sourcing of puppies and certain breeds of dogs.
While no such ordinance currently exists in Nebraska, Geist said, animal welfare groups are urging cities across the country to require pet stores to source dogs only from animal shelters rather than breeders.
"I'm sure there are bad actors out there," she said, "but to wipe out pet stores as a class of business, I think is not wise."
Geist brought an amendment to the hearing that would allow municipalities to adopt local laws or ordinances governing permits, licenses, fees, housing requirements or public safety regarding pet animals. It would not preempt any municipal law, ordinance or regulation already in effect.
Testifying in support of the bill was Mike Gonidakis on behalf of Citizens for Responsible Pet Ownership, a national nonprofit. Gonidakis said cities in other states have banned pet stores that do not source their animals from rescue shelters, effectively shutting down stores that sell only purebred dogs. He said LB382 is needed to prevent that from happening in Nebraska.
Jack Cheloha, lobbyist for the city of Omaha, testified in opposition to the bill. He said Omaha has not shut down a pet store during his 25 years working for the city, and no group has approached the city council with a proposal to restrict them.
Although Geist's amendment would preserve part of the city's ability to adopt local animal welfare ordinances, Cheloha said, "it's still something that we're not comfortable with."
"We just don't see the need for any preemption in the bill whatsoever," he said. "It's just not a problem in Nebraska."
Robert Downey, president and CEO of the Capital Humane Society in Lincoln, also testified in opposition, specifically to the proposed preemption of local ordinances.
"The challenges that can be presented to animal control authorities in different locales can be vastly different," he said. "Local governing bodies need to be able to react to those challenges without having their hands tied by state law which prohibits them from being more restrictive than the state."
Misty Christo testified in opposition to the bill on behalf of the Nebraska Rescue Council. She said cities in other states have passed ordinances banning pet stores from selling puppies from puppy mills. Businesses opposing those measures now are seeking protection from state legislatures rather than sourcing their animals from shelters, rescues and responsible breeders, Christo said.
"[LB382] appears to regulate the very industry that it protects," she said, "but in reality it would place meaningless restrictions on pet stores and secure the puppy mill-pet store pipeline by preventing localities from enacting laws that regulate the sale of puppies in pet stores."
The committee took no immediate action on the bill.
Please let us know if you have any questions about the bills we are tracking on your behalf. Any bills that had a status change this week are indicated in bold.
CLICK HERE TO REVIEW THE BILLS OF INTEREST.
Happy March!
Michelle and Katie
---