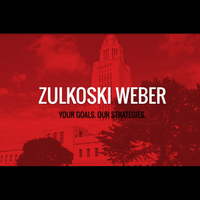 FROM NVMA LOBBYING FIRM ZULKOSKI WEBER
This week at the Nebraska Legislature was marked by continued morning debate with advancement of a good number of bills and more afternoon committee hearings. There are two more weeks left of committee hearings. Next week all priority bills will be selected, and the Unicameral will turn its attention to those priorities.
The Revenue Committee continues its deliberations about tax reform. The Lincoln Journal Star reports:
List of legislative tax reform options grows
It's all on the table now, even more.
The Legislature's Revenue Committee conducted a free-wheeling discussion of tax reform during an executive session Thursday evening and when it was done sales tax increase proposals were joined by consideration of income tax reductions and major changes in state aid for local schools.
But the overriding goal continued to be property tax relief, perhaps as great as $500 million at the beginning with some senators focused on eventually achieving a billion dollars at the end.
No votes were taken, no decisions were made and Revenue Chairwoman Lou Ann Linehan of Elkhorn said there will be more discussions among senators and in future committee sitdown sessions.
"There were a lot of good ideas," Linehan said following the committee's second evening executive session targeted at seeking agreement on a tax reform plan.
"We're not there yet," she said.
But Linehan remains focused on her goal of sending legislation to the floor of the Legislature by mid-April.
Informal discussion on Thursday night focused on the possibility of some spending controls along with major property tax reduction which could be accompanied by a lid on future local property tax increases.
Sens. Curt Friesen of Henderson, Tom Briese of Albion and Mike Groene of North Platte gave fellow committee members extensive briefings on the details of their individual tax reform bills, all of which are being held by the committee following lengthy public hearings earlier this session.
Linehan said she would like to see if the three senators might be able to "come to agreement" on a single plan.
The possibility of both corporate and individual income tax reductions was aired Thursday night along with an array of sales tax options, including a 1-cent increase in the 5.5 percent state sales tax rate that would raise an estimated $326 million a year.
Also on the table was a proposed half-cent sales tax rate hike along with a lengthy list of current sales tax exemptions that could be repealed. Among them were exemptions applied to candy, soft drinks and bottled water.
A cigarette tax hike also remained in consideration.
One list of sales tax exemptions that could be considered for repeal totaled more than $123 million in potential new state revenue that could be devoted to property tax relief.
While we have not heard veterinary services singled out in this discussion, Senators are continuing to consider all exemptions for inclusion. NVMA members are encouraged to contact Revenue Committee members to express opposition to removing the sales tax exemption for veterinary services:
The Appropriations Committee held a hearing on one bill of interest to NVMA this week:
LB673 (Hilkemann) Change Nebraska Health Care Cash Fund provisions and state intent relating to an appropriation for data collection and analysis on antimicrobial resistant bacteria
LB673 would appropriate to the Board of Regents of the University of Nebraska $250,000 from the Nebraska Health Care Cash Fund for data collection and analysis on antimicrobial resistant bacteria.

The sole proponent was Ali Khan, Dean of the College of Public Health at UNMC.

There were no opponents or neutral testimony.
The Lincoln Journal Star reported:
The committee also heard a request for $500,000 over two years from the Health Care Cash Fund for data collection and analysis on antibiotic-resistant bacteria at UNMC. The bill (LB673) was introduced by Sen. Robert Hilkemann of Omaha.
"Antibiotic resistance is one of the biggest public health challenges of our time," Hilkemann said.
A 2013 report showed that each year in the United States, 2 million people get an antibiotic-resistant infection and at least 23,000 people die from them.
Dr. Ali Khan, dean of the College of Public Health at UNMC, said the money from the state would help to limit the threat of the antibiotic-resistant organisms in the state.
Overuse and misuse of antibiotics and related drugs is the cause for the problem, he said.
Nebraska is in the top 10 states for doctors writing antibiotic prescriptions. They wrote 1,040 prescriptions per 1,000 people in 2016. It's estimated that at least 30 percent of prescriptions for antibiotics across the nation are unnecessary, he said.
"So, clearly, Nebraska prescribers are somewhat undisciplined in their antibiotic-prescribing practices," Khan said.
With money from the state, he said, UNMC in a collaborative effort with the Department of Health and Human Services would improve the problem with the data they collect, develop new tools, and address the gaps in hospital-acquired infections. The idea would be to use the most-targeted drug for an infection and not a "gorillacillin," he said.
The data collection and analysis would define hot spots of antibiotic usage, counsel people on antibiotic stewardship, and trace the link between animals, food and people for how the resistance spreads, Khan said.
These bills were passed on Final Reading today:
LB29 (Kolterman) Provide and eliminate telehealth provisions (veterinarians are excluded)
LB112 (Howard) Provide for waiver of certain occupational and licensing fees as prescribed
Please let us know if you have questions on these or other bills of interest.
CLICK HERE TO REVIEW THE BILLS OF INTEREST.
May the road rise up to meet you, may the wind be always at your back, may the sun shine warm upon your face, the rains fall soft upon your fields,
Michelle and Katie
---