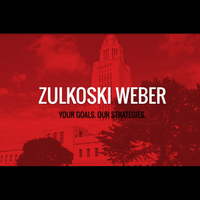 FROM NVMA LOBBYING FIRM ZULKOSKI WEBER
If the Nebraska Legislature were a sports league, March would be the playoffs. Senators and committees are selecting priority bills, committees are packaging bills to be sent to the floor, and we are beginning to see which legislation will make it to the final rounds.
The Revenue Committee met this week to begin in earnest their work to form a property tax relief package. While no votes were taken, general consensus seems to be forming around these key aspects:
Revenue will be raised by raising our state sales tax by 0.5%, rather than through a blanket repeal of sales tax exemptions.

There are still some sales tax exemptions still being considered for repeal, and we will continue monitoring this situation closely.

Revenue may also be raised by increasing Nebraska's tobacco tax to $1.00, still keeping Nebraska's tax rate lower than in surrounding states.

New revenue raised would go only to property tax relief.
The Governor drew his line in the sand early in the session stating he will oppose any new taxes and any new increase in taxes, so the package is not without some pretty high-profile opposition, even before it gets out of the gate. The Revenue Committee Chair, Senator Lou Ann Linehan of Elkhorn, has stated that her goal is to have a property tax package for the Legislature to consider by the end of March.
Another committee sending out significant pieces of legislation is the Business and Labor Committee, which much earlier in the year advanced Senator John McCollister's LB254 the Fair Chance Hiring Act to General File. This bill was then significantly amended to still allow employers to ask job applicants about a criminal record, as long as they also give the applicant room to explain the information and circumstances surrounding the criminal history. As amended, the bill has advanced to the final stage of voting, and it is expected to pass in to law. Employers will need to be aware of the changes this bill requires to any hiring forms or questions.
Spend your state basketball weekend reviewing bills of interest, available here.
CLICK HERE TO REVIEW THE BILLS OF INTEREST.
We hope all of your teams are winning,
Katie and Michelle
---