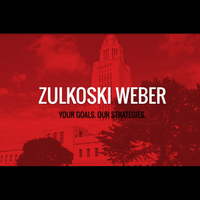 FROM NVMA LOBBYING FIRM ZULKOSKI WEBER
On Monday the Legislature gave first-round approval to Senator Howard's LB556, which allows greater sharing of data from the state's prescription drug monitoring program. The bill would make a number of changes designed to make the PDMP interact more effectively with appropriate agencies, other state drug monitoring programs, and state and regional health information exchanges.
Among other provisions the bill would:
allow for interstate data sharing with other state prescription drug monitoring programs;

allow for highly regulated sharing of de-identified prescription data for research purposes;

add requirements for prescription and identifying data to be collected to aid in patient matching and medication reconciliation;

give non-statutory flexibility to the state Department of Health and Human Services in collaboration with the PDMP in altering data collection provisions; and

allow Medicaid managed care organizations and Nebraska Medicaid officials access to the PDMP.
Senator Howard said the bill would help ensure that providers access the PDMP more regularly and that Nebraska continues to obtain federal grant funding by complying with interstate operability requirements.
A committee amendment incorporated provisions of LB557, introduced by Senator Lindstrom. The provisions would amend the definition of a practitioner for purposes of PDMP requirements to include a physician, physician assistant, dentist, pharmacist, podiatrist, optometrist, and various advanced practice nurses—as long as that practitioner is a member of the patient's care team. The original definition in LB557 as introduced would have included veterinarian, but was amended out by the committee. The provisions also would change the first and third prescription to a 60-day look back and add an exemption for hospice and palliative care or a cancer diagnosis.
Discussions continue on the Revenue Committee's tax package. Chairman Linehan reports that the emails and calls in opposition to taxing pet-related services have given the committee good reason to exclude it from their package. The committee is expected to report a bill as early as next week.
Lincoln Journal Star: Tax reform plan still under construction
The Legislature's Revenue Committee began to try to frame a complex, multi-layered tax reform plan Wednesday night with decisions on key elements yet to come.
The plan may be tied to a fundamental revision of the state school-aid formula and could propose a half-billion dollars in additional property tax relief over the next biennium.
No votes were taken and no decisions made during a two-hour executive session.
Revenue Committee Chairwoman Lou Ann Linehan of Elkhorn said the plan that emerges from further committee deliberations will be subjected to a public hearing conducted jointly by the Revenue Committee, the Education Committee and the Retirement Committee.
Linehan said that kind of joint hearing is needed to provide transparency and accountability.
Following that unusual event, the Revenue Committee will determine what it sends to the floor of the Legislature.
Some fissures began to appear within the committee during Wednesday night's discussion, but they also appeared to be negotiable.
One of the differences is whether a proposed one-half cent increase in the state sales tax rate should be hiked to 1% in order to provide sufficient revenue to fund property tax relief while maintaining funding for state programs and services.
But one member of the committee said even a proposed half-cent increase could be a big lift, especially in urban areas.
The emerging plan is likely to include an increase in the cigarette tax and elimination of a number of sales tax exemptions.
One senator said that what currently is a very complicated model of proposed tax and school-aid proposals needs to be simplified once the committee makes an effort to win approval on the legislative floor.
Sen. Mike Groene of North Platte, chairman of the Education Committee, spearheaded proposed revision of the school-aid formula as the path to substantial and enduring property tax relief.
"We're very close to agreement," Linehan said following the meeting.
The committee decided to advance to the floor a bill (LB303) sponsored by Sen. Brett Lindstrom of Omaha at the request of Gov. Pete Ricketts that would add $51 million a year to the state's property tax credit fund.
But another proposal (LR8CA) sponsored by Linehan at the request of the governor to provide for a vote of the people on a proposed constitutional amendment to place a 3% annual cap on increases in property taxes remained stuck in the committee after falling one vote short of advancement.
The committee advanced an amended version of LB670, a Linehan bill that would provide private school scholarship tax credits.
Friday's Omaha World Herald article outlining the Governor's opposition to the plan specifically notes that taxing pet-related services has been removed from the committee's proposed package.
Ricketts again criticizes legislative proposals for reducing Nebraska property taxes
Gov. Pete Ricketts joined home builders and Realtors on Thursday in criticizing proposals to reduce property taxes being floated in the Nebraska Legislature.
Previously, the conservative Republican has stood with craft brewers and grocers to oppose proposals that would raise taxes on beer and junk food.
Thursday, the target was a proposed doubling of the state documentary stamp fee that is assessed when a person buys a new home, commercial building or land. Under a proposal discussed by the Legislature's Revenue Committee, that fee would double from its current $2.25 for each $1,000 of property being sold.
Representatives of the Home Builders Association of Lincoln and the Nebraska Realtors Association said that raising the cost of housing via a tax increase would hurt the state's economy and could prevent some people from purchasing a home.
Ricketts took aim at the Revenue Committee, saying it has adopted a "theme" of proposing that some taxes be increased to reduce property taxes. That approach, he said, "has to stop.
We've tried this before, and it's failed," he said.
Ricketts touted his own plan, which would increase the state's property tax credit program by $51 million a year, to $275 million, and would limit growth in spending of property tax dollars to no more than 3% a year.
He also revealed Thursday that there's some new money, about $34 million in fiscal year 2020-21, that could be applied toward property tax relief if the Legislature decided to do that. That extra money is expected via the Medicaid program after the federal government has recalculated, to Nebraska's advantage, its match rate for funding the state-federal health care program.
So far, the Revenue Committee, which crafts tax policy, has reacted coolly to Ricketts' ideas for property tax relief. The eight-member panel on Wednesday night declined to advance the 3% lid proposal, and barely advanced the increase in the property tax credit.
Instead, the committee outlined a proposal, Legislative Bill 289, that would increase state aid to local schools by more than $400 million a year to reduce local property taxes, which are among the highest in the nation. The plan calls for a ½-cent increase in the state sales tax, a handful of other, smaller tax hikes, and using most of the property tax credits.
State Sen. Lou Ann Linehan of Elkhorn, the committee's chairwoman, said the governor and her committee are "not that far apart." She said Ricketts needs to drop the notion that raising one tax to lower another is a bad idea. Linehan said that's what the property tax credit does already, by using state income and sales tax revenue to offset local property taxes.
Linehan added that the property tax reduction package being formulated by the Revenue Committee is still a work in progress. On Wednesday, for instance, the committee's proposal changed again. Several proposed repeals of sales tax exemptions were dropped, including taxing bottled water, pet care services and labor on home repairs.
LB 289 is already getting opposition from rural senators, who said it doesn't do enough to provide tax relief for farmers and ranchers, who've seen their property tax bill explode in recent years. In some rural districts, the increase in state aid to schools doesn't exceed the loss in property tax credits given to local farmers and ranchers, said Henderson Sen. Curt Friesen.
Omaha Sen. John McCollister, who sits on the Revenue Committee, said Thursday that he's still assessing LB 289, but he said there's a chance that the Legislature won't agree on a comprehensive property tax relief proposal this year.
His fellow committee member, Sen. Brett Lindstrom of Omaha, said that if that happens, lawmakers could turn back to the governor's proposal to increase the property tax credits, which would provide some relief.
Please let us know if you have questions on any of bills of interest.
CLICK HERE TO REVIEW THE BILLS OF INTEREST.
Have a great weekend,
Michelle and Katie
---