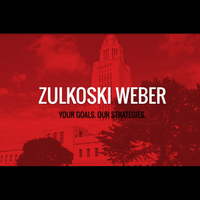 FROM NVMA LOBBYING FIRM ZULKOSKI WEBER
"You are in a stagecoach, chasing a Ferrari." Senator Chambers made this claim about his fellow legislators on the floor of the Legislature this week—and it also seems like a good way to sum up the slow progress being made on seemingly unattainable goals throughout this pre-Easter week.
At the end of March we were pleased to report that legislative committee hearings were completed for the 2019 session. Oh, but no. On Wednesday, the Revenue Committee announced a hearing on the latest property tax relief amendment will be held next Wednesday afternoon, April 24, starting at 4 p.m. This announcement was made at a Revenue Committee press conference where Chairman Linehan touted the legislation, rivaling the multiple press conferences the Governor had earlier to denounce the proposed tax increases.
The proposed amendment under consideration increases sales taxes by ¾ cents and imposes new sales taxes on pop, candy, moving services, plumbing, HVAC, and veterinary services on pets. These changes allow an increase in state aid to schools by $540 million—intended to supplant local property taxes and provide at least 33% of the cost of K-12 education for every school district, ending a system that right now gives so-called "equalization aid" from the state to only about one in four school districts. The bill limits school tax levy authority lowers property valuations for all property tax-collecting entities by 10%. The valuation for business and residential properties drops to 90% and the valuation for ag land drops to 65%. In the spirit of adding in something for everyone, the bill allows for a 6-cent levy to fund Omaha Schools retirement contributions.
After next Wednesday's unprecedented three-way hearing made up of the Revenue Committee (there for the tax policy), the Education Committee (there for the school funding), and the Retirement Committee (there to help clean up the Omaha Public Schools retirement mess), the Revenue Committee will have the final say in what is advanced to the floor of the Legislature for consideration.
You will recall that last week at this time pet services were not included in the sales tax proposals. However, the Governor held a press conference on Monday afternoon calling on the Legislature to "keep their paws off pet healthcare," decrying the once-proposed sales tax on pet services. This spurred a fight back from the Revenue Committee chair Senator Lou Ann Linehan who re-included veterinary services for pets in the bill. We are frustrated by the re-inclusion of veterinary services, and the NVMA will be present at next week's hearing to oppose the imposition of this tax.
Other bills we are following on your behalf are included on the attached chart. CLICK HERE TO REVIEW THE BILLS OF INTEREST.
Enjoy the Easter weekend,
Katie and Michelle
---