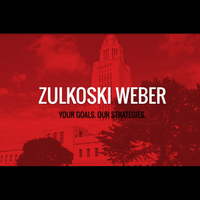 FROM NVMA LOBBYING FIRM ZULKOSKI WEBER
By Tuesday of this week we figured we had our ZW Weekly email written: a week of filibusters. The week started with the same bickering, grudges, and threats that we ended with last week. But by Wednesday, the tune had changed, and the Legislature is back to productive work. Senator Wayne's constitutional amendment to allow 20-year TIF projects advanced, and we are one round of voting nearer to being able to buy tourism trinkets. But honestly, those won't be for everyone.
The productivity as it relates to Nebraska Veterinary Medical Association is highlighted in your attached chart – those bills with any movement or changes appear on the chart in bold. CLICK HERE TO REVIEW THE BILLS OF INTEREST.
Governor Pete Ricketts and other industry groups held a press conference on Wednesday to oppose the proposed sales taxes on pop and candy. Governor Ricketts has said that such tax increases would be particularly burdensome when Nebraska is recovering from devastating flooding. Governor Ricketts continues to state that "It's not right to raise taxes on working families to pay for someone else's tax relief. This is 'Reverse Robin Hood.'" This vocal opposition is good news for the NVMA because the proposed sales tax on pet-related services, which may be included in the same bill as the pop and candy tax, will most likely be vetoed by the Governor.
Thank you to those NVMA members who have already contacted Revenue Committee members in opposition to the pet-related services sales tax. We have been told by Revenue Committee Chair Linehan that the opposition emails are coming in.
Emails can continue to be sent to members of the tax policy-setting Revenue Committee to let them know you oppose the Nebraska Legislature creating a new sales tax on pet-related services. Without a specific carve out, the proposed 5.5% tax on pet-related services may include a tax on veterinary services.
Suggested talking points for your emails:
Any additional cost on veterinary services for pets may result in the delay or complete avoidance of life-saving procedures.

Human medical treatments are not considered taxable because of the importance of the services, and animal medical treatments should have the same tax treatment.
· Sen. Lou Ann Linehan, Chairperson
The first bill up on Monday morning's agenda is LB556, Senator Howard's priority bill to change provisions relating to the prescription drug monitoring program. LB556 amends the PDMP to do the following: allow for interstate data sharing with other state PDMPs; allow for regulated sharing of de-identified prescription data for research purposes; add requirements for prescription and identifying data to be collected to aid in patient matching and medication reconciliation; give flexibility to the Department of Health and Human Services in collaboration with the PDMP in altering data collection provisions; and allow Medicaid managed care organizations and Nebraska Medicaid officials access to the PDMP.
The committee amendment to LB556 also includes the language from LB557, originally introduced by Senator Lindstrom at the request of Nebraska Medical Association to clarify health care provider duties related to opioid prescribing. The bill amends duties put into law last year and would require the prescribing practitioner involved in the course of treatment as the primary prescribing practitioner or a member of the patient's care team who is under the direct supervision or in consultation with the primary prescribing practitioner to discuss with the patient the risks of controlled substances, unless such conversation has already taken place within the last 60 days. The bill provides these advisements do not apply to hospice, cancer, or palliative care treatment. The bill has been amended to remove veterinarians from the list of providers to whom these provisions apply.
We'll sign off by borrowing another phrase from the tourism department:
Another day on the dusty plains,
Katie and Michelle
---