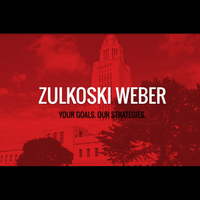 FROM NVMA LOBBYING FIRM ZULKOSKI WEBER:
Budget given first-round approval
"We're going to put politics in front of prudence," Appropriations Chairman John Stinner remarked as Senators debated an amendment to the state's $9.3 billion biennial budget this week. Despite Senator Stinner's warnings to shore up the state's rainy day fund, he was out-voted as Senators redirected $50 million over two years from the state's cash reserve to property tax credits for which Governor Ricketts supports increased funding. As amended, the budget would bring the Property Tax Credit Fund to $275 million annually.
The rest of the Appropriations Committee budget was left intact with the mainline budget bill (LB294) gaining first-round approval with a vote of 42-4. Opposing Senators criticized the budget for overspending, including on higher education, but did not any offer any amendments to change what they considered to be the offending provisions.
Property tax/Sales Tax proposal debated
On Monday lawmakers debated legislation to reduce property taxes by raising sales tax revenue and directing the additional revenue to state support for school funding. Revenue Chairman Lou Ann Linehan, sponsor of LB289, called the bill a tax structure "rebalancing." She claims the significant increase in aid would reduce the state's overreliance on property taxes to fund K-12 education and provide meaningful property tax relief for every property owner in the state. While several Senators rose in support of the proposal, it was criticized by others. Senator Chambers decried the half-cent sales tax increase as a "cruel, heartless and unfeeling" burden on the poor. Senator Chambers filed several amendments, including one to remove the repeal of the sales tax exemption for veterinary services. No vote was taken on this amendment. Lincoln Senators Bolz and Morfeld expressed concern about the proposal's effect on urban school districts. The bill is now on a "Speaker's hold" and will return to the agenda when Senator Linehan can demonstrate sufficient support to advance the bill—which she does not currently have. Senators are discussing possible changes to the bill, but no additional amendments have been filed.
Seventy-four days of the 90-day session are now complete. Please let us know if you have questions of any bills of interest.
CLICK HERE TO REVIEW THE BILLS OF INTEREST.
Have a great weekend!
Michelle and Katie
---