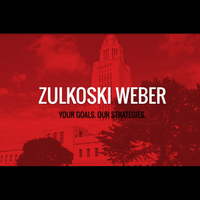 FROM NVMA LOBBYING FIRM ZULKOSKI-WEBER:
The Nebraska Legislature has adjourned sine die. The 2019 session is done, finished, complete. Final adjournment was set on the calendar for June 6, but the Speaker of the Legislature Jim Scheer is sending senators home early after most (all except four) of the priority bills received debate and final action for the year. There was only one priority bill held in committee, LB606 by Senator Mike Groene, which would allow land owned for purposes of water augmentation projects to be sold. One priority bill, LB147 also by Senator Groene—this one allowing teachers' physical contact for student discipline, was pulled from the Education Committee (interestingly, this committee is chaired by Senator Groene) by 25 votes of the full legislature, but then no further debate was given to the bill. One Speaker priority, LB379by Senator Mark Kolterman to allow pay day lenders to loan dollars online, was advanced out of the Banking Committee but never scheduled for debate. And one priority bill, LB183 by Senator Tom Brewer to exempt military retirement benefits from income tax, was advanced out of Revenue Committee too close to the new ending date to be considered.
The final day of the session the Legislature considered two veto overrides—one to create a regional metro transit authority and one to clear up marriage license statutory terms. Senator Justin Wayne was successful in overcoming the Governor's veto on his transit authority bill. Senator Machaela Cavanaugh opened on her motion to override the Governor's veto but then withdrew the motion, instead accepting a compromise solution the Governor offered to administratively change terminology on marriage license applications.
During the 84-day session, Senators introduced 739 bills and passed 294 of those bills into law. Over the years the Legislature has traditionally passed around 40% of the bills introduced, and this year held true to that calculation.
Six bills were sent to the Governor's desk for his signature over the last two days. Because the Legislature will not reconvene this year, any of these bills are potential victims of a gubernatorial veto that could not be overridden. Based on the bills passed, though, we don't predict this happening.
In other veto news, the Governor did not use his line-item veto authority on any items in the $9.3 billion budget. The Governor signed the package, touting its inclusion of "direct tax relief" through the $275 million annual Property Tax Credit Relief Fund and leaving intact 2% provider rate increases, $11 million water sustainability funding, and $11 million in additional funds for flood relief.
CLICK HERE TO REVIEW THE BILLS OF INTEREST.
Worried that this is your last ZW Weekly? There is more to come:
A final session recap of bills that passed, bills that failed, and bills that we will be working on over the interim.

A email listing the interim studies of interest, with the rank order of each resolution assigned by the committee directed to study the issue.

Invitations for golf, lunch, dinner, or drinks. We love spending time with you and learning more about the issues that matter to you.

And finally, the 2020 legislative session is just seven short months away – ZW Weekly will be back in action on January 8, 2020.
We're wearing our seersucker to signal the official start of the interim,
Katie and Michelle
---