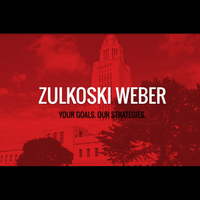 FROM NVMA LOBBYIST KATIE WEICHMAN ZULKOSKI:
Governor Pete Ricketts presented the State of the State to the Nebraska Legislature this morning and concluded the state of the State is "strong and growing." The Governor stated that his top priority would be balancing the budget while fully funding his priorities of K-12 Education, Corrections, and services for individuals with developmental disabilities. In addition, the budget will also include an additional $35 million for Child Welfare and Public Assistance for this year and next.
The Governor also set forth the basic outline of the tax plan he is working on with Chairman of the Revenue Committee Jim Smith. The bill will restructure existing property tax credits as a refundable tax credit on state income taxes to ensure that Nebraskans are receiving the credit. The credit amount will begin at a 10 percent refund for both residential and ag property and will increase every year based on certain triggers of revenues received by the state. There is also a planned reduction in the top individual income tax rate from 6.84 percent to 6.69 percent over the next two years. Finally, the package will include $10 million for Workforce Development.
The Governor's Budget and the tax package are being introduced as legislative bills today, and we will be back in touch with any recommendations that impact you.
Thanks,
Katie
Katie Weichman Zulkoski
Zulkoski | Weber
o: 402-975-2195
c: 402-405-3676
---