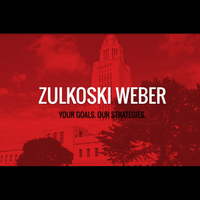 LEGISLATIVE UPDATE FROM NVMA LOBBYISTS MICHELLE WEBER and KATIE WEICHMANN ZULKOSKI:
With only one legislative day remaining, some Senators are disappointed about the Legislature's failure to deliver any property tax relief this session. In response to Speaker Jim Scheer's call for a compromise last Friday, key Senators met over the weekend to seek a solution but came up short. On Tuesday, Gordon Senator Tom Brewer filed a request with the Secretary of State to poll his colleagues on whether to convene a special session to reduce property taxes. Others signing the letter included Senators Steve Erdman of Bayard, Steve Halloran of Hastings, Tom Briese of Albion, Mike Groene of North Platte, Bruce Bostelman of Brainard, Curt Friesen of Henderson, Justin Wayne of Omaha, John Lowe of Kearney, Tyson Larson of O'Neill, Joni Albrecht of Thurston, John Murante of Gretna, and Dan Hughes of Venango.
Yesterday Speaker Scheer outlined the relevant law and process for calling the special session. The Secretary of State dispatched certified letters to the 36 Senators not signing the letter along with a signature form for any member supporting the special session to return by 5 p.m. on Monday, April 23. If two-thirds of the members (33) or more support the call, the Secretary of State must send a certification to the Governor. The Governor will then have five days from that receipt to convene the session. The law restricts the session to "no business except that for which it was called together." The Speaker shared that he would not be returning the letter, saying the request is well-intentioned, but it does not allow the time needed to facilitate a solution.
On Twitter, Governor Ricketts said, "As long as senators remain fixated on increasing taxes, we should not even be considering a special session. No tax hikes!" Revenue Chairman Jim Smith quickly replied, "GovRicketts is right...trying to fix property tax problem by raising other taxes or shifting taxes is bad idea. bad for Nebraska." Senator Brewer has said Senators can either be a part of the solution, or "be a poster child for why we need to pass the ballot initiative in November." A statewide petition drive is underway to place a billion-dollar property tax reduction initiative on the November general election ballot.
NVMA Legislation of Interest:
One of measure advancing this week was LB 731, which now contains the requirement for three hours of continuing education on opioids for those health practitioners who prescribe controlled substances. An amendment was adopted this week that would allow subjects other than those specifically listed in the bill to count toward the CE requirement. Under the amended bill, "beginning with the first license renewal period which begins on or after October 1, 2018, the continuing competency requirements for a nurse midwife, dentist, physician, physician assistant, nurse practitioner, podiatrist, and veterinarian who prescribes controlled substances shall include at least three hours of continuing education biennially regarding prescribing opiates…The continuing education may include, but is not limited to, education regarding prescribing and administering opiates, the risks and indicators regarding development of addiction to opiates, and emergency opiate situations. One-half hour of the three hours of continuing education shall cover the prescription drug monitoring program." The requirements sunset January 1, 2029. This bill is on the agenda for final legislative approval next Wednesday.
Final approval was given to Senator Groene's animal massage bill, which will now be sent to Governor for his signature. Unfortunately, this bill has become the main claim to victory for those pushing for less regulatory red tape (and the main joke of the session for those who threatened to vote "neigh"). Details on the bill are included in the Unicameral Update below:
Animal massage bill passed
April 11, 2018 Sen. Mike Groene, LB596
Lawmakers gave final approval April 11 to a bill intended to enable the practice of equine, dog and cat massage in Nebraska.
LB596, sponsored by North Platte Sen. Mike Groene, defines dog, cat and equine massage practice as the application of hands-on massage techniques for the purpose of increasing circulation, relaxing muscle spasms, relieving tension, enhancing muscle tone and increasing range of motion.
An individual who engages solely in dog, cat or equine massage practice is not subject to the Veterinary Medicine and Surgery Practice Act.
LB596 passed on a vote of 46-0.
---