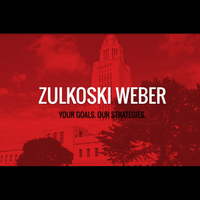 FROM NVMA LOBBYIST KATIE WEICHMAN ZULKOSKI:
It was a short week of long hearings this week in Lincoln. Committees accepted public testimony on medical marijuana, voter ID at the polls, and Americanism in Nebraska schools. And, in what is a first in our lobbying careers, there is a full day of Judiciary Committee hearings going on today, a recess Friday. The Judiciary Committee is known for its long days—and nights—of testimony, but this year the committee was assigned one-quarter of all the bills introduced, making their short session anything but.
One of this session's top priorities—tax reform—continues to be discussed in the Revenue Committee. On Thursday, the Revenue Committee held an hours-long hearing on Senator Briese's LB 1084, billed as a tax reform package that will lessen property taxes and raise revenue by removing certain sales tax exemptions and raising the overall sales tax rate. Groups lined up on both sides of the bill, with support coming principally from ag land tax payers and school groups.
While the NVMA generally aligns with ag groups in the Capitol, we took a position of opposition to Briese's LB 1084 because the bill would impose a new sales tax on pet-related services. While the definition of pet-related services is unclear, the position of the language implies it would include veterinary services for pets. As such, the NVMA submitted a letter in opposition to the bill. The Revenue Committee has not taken official action on this or any of the tax bills yet this session, and many are interested in whether any package will be able to emerge. Here is the chart of bills we are following for you.
Enjoy the weekend.
Katie
Katie Weichman Zulkoski
Zulkoski | Weber
725 South 14th Street
Lincoln, Nebraska 68508
o: 402-975-2195
c: 402-405-3676
---