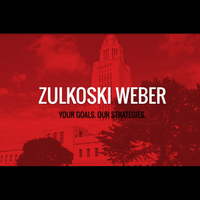 LEGISLATIVE UPDATE FROM NVMA LOBBYISTS MICHELLE WEBER and KATIE WEICHMAN ZULKOSKI:
Happy Friday from Lincoln, where the Legislature has adjourned for another four-day weekend—much needed after a week that included an 11:30 p.m. adjournment following all-day budget debate. On Tuesday, the Unicameral gave first-round approval to the three bills comprising the budget package. Important budget notes:
The budget as advanced would result in 0.5 percent average growth in state spending over the next two fiscal years (as compared with .02 percent in the Governor's budget proposal).

The mainline budget bill (LB 944) was the subject of extended debate regarding disbursement of Title X funding to health care facilities that provide abortion, requiring a cloture vote to stop debate.

After getting exactly 33 votes (the number needed to break a filibuster), the bill passed to Select File by a vote of 38-6. Objecting Senators have voiced concern about spending down the state's cash reserve fund to $296 million.

Final approval of adjustments to the 2017-19 $8.8 billion state budget are required to be completed by legislative day 50 (March 27).
Day 50 is also the deadline for Senators to introduce interim study resolutions. If you are interested in having a legislative resolution presented that would allow for a potential policy discussion or report, please let us know as soon as possible.
On Thursday, the Health & Human Services Committee advanced Senator Kuehn's LB 1057 to add a definition of "dispensed prescription" to the Prescription Drug Monitoring Program. This bill was also amended into the committee amendment for Senator Riepe's priority bill (LB 1034), along with several other measures, to ensure its consideration by the full Legislature.
LB 596, Senator Groene's equine massage bill, is the first bill on the agenda for Tuesday. An amendment is pending that would make some changes to the previously pending amendment from Senator Groene, but retain the heart of the compromise reached with NVMA.
Here is the chart of bills we are following for you.
Happy St. Patrick's Day!
Michelle & Katie
---