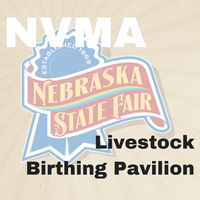 The good news is that we have at least one volunteer for every available shift at the Nebraska State Fair Birthing Pavilion, with the exception of 5 p.m.-9 p.m. Saturday, September 1. To fully staff all shifts, we need nine more of the good people of the Nebraska Veterinary Medical Association to step forward and sign up.
Please consider volunteering for this fun and rewarding activity. You even get to attend the State Fair free of charge. NVMA volunteer spots are open to veterinarians, technicians and veterinary students.
The dates run from Friday, August 24 to Monday, September 3. There are three shifts per day that run 9 a.m. – 1 p.m., 1 p.m.– 5 p.m. and 5 p.m. – 9 p.m. A scrub top will be provided for you. The state fair will provide entry tickets for you and your family.
Please contact Dr. Missy Lemons at 308-382-6330 or Crystal Lewandowski at 308-382-6330 if you have any additional questions.
Thank you in advance for your continued support of this public awareness event.
---
Interstate Veterinary Meeting
The Lewis and Clark Veterinary Conference, which is sponsored by the Interstate Veterinary Medical Association, Inc., is scheduled for October 3-5, 2018, at the Marina Inn in South Sioux City, Nebraska. Click here for more information.
---