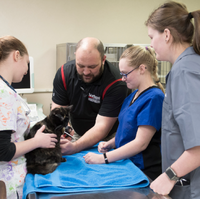 The Norfolk Daily News recently featured the Northeast Community College Veterinary Technology program, where NVMA member Joshua Schlote, LVT, is an instructor.
Here is an excerpt from reporter Andrea Larson's story:
Northeast Community College (Norfolk, Nebraska) Instructor Josh Schlote, a licensed veterinary technologist (and member of the Nebraska Veterinary Medical Association), said his students primarily work with dogs and cats that come in on a two-week rotation from the Puppy Love animal shelter.

Ferrets and rabbits also make an appearance at the lab, and all of the animals are given a thorough wellness check.

"(The students) do physical exams, blood work, check (the animals') eyes, ears, cardiac. They check skin and look for parasites. And then they learn injection techniques, IV catheter placement, bandaging techniques," Schlote said.
Read the full story with photos by Jake Wragge of the Norfolk Daily News in the latest issue of the NVMA newsletter, Veterinary Views.
---