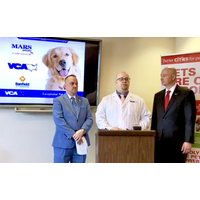 On Monday, April 15, 2019 VCA MidWest Veterinary Referral & Emergency Center in Omaha, Nebraska hosted Governor Pete Ricketts for a press conference to speak out against proposed taxes on veterinary services.
Gov. Ricketts, Dr. Christopher G. Byers, Medical Director at VCA MidWest, and Mike Mayers, Director of Public Affairs and Government Relations at Mars, Incorporated (R-L in photo) spoke to media representatives about this bad legislation that would negatively affect veterinary medicine in Nebraska. Members of the NVMA are encouraged to reach out to their representatives to demand they keep their paws off veterinary healthcare.
Dr. Byers is a member of the NVMA.
---