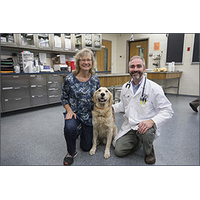 Researchers at Purdue exploring Doppler light scattering, a new method for testing how patients will respond to various drugs, say the test could help customize chemotherapy treatments for cancer patients and deliver more effective, personalized treatment. Early findings report an 84 percent success rate predicting patient response to therapy in the first preclinical trial. MORE
---
Join Us in June
Join us in June for continuing education and great family fun -- golf, team roping and shooting clays along with a wine-tasting and dinner at James Arthur Vineyards.
Register now (click here) for the NVMA Summer Meeting in Lincoln. The complete schedule and details on activities and speakers will be at your fingertips when you download and use the Summer Meeting app. Click here to get the app.
The Continuing Education Committee has put together a great lineup of CE presentations. Review them here:
SMALL-ANIMAL CE | LARGE-ANIMAL CE | TECHNICIAN CE
---
Prescription Drug Monitoring for Veterinarians
Beginning July 1, 2018 in Nebraska, a veterinarian licensed under the Veterinary Medicine and Surgery Practice Act will be required to report a dispensed prescription of controlled substances listed on Schedule II, Schedule III, or Schedule IV pursuant to section 28-405. (Neb. Rev. Stat. § 71-2454 (4)).
The Nebraska prescription drug monitoring program (PDMP) is developed through legislative bills passed by the Nebraska Legislature in 2011, with system enhancements made in 2016 and 2017.
Here are some resources to help you prepare for the implementation of the PDMP for veterinarians:
---