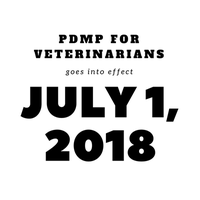 Beginning July 1, 2018 in Nebraska, a veterinarian licensed under the Veterinary Medicine and Surgery Practice Act will be required to report a dispensed prescription of controlled substances listed on Schedule II, Schedule III, or Schedule IV pursuant to section 28-405. (Neb. Rev. Stat. § 71-2454 (4)).
The Nebraska prescription drug monitoring program (PDMP) is developed through legislative bills passed by the Nebraska Legislature in 2011, with system enhancements made in 2016 and 2017.
Some new information from the state:
Veterinarians who dispense Schedule II - Schedule IV controlled substances and need to connect and upload dispensed prescription information to the Nebraska PDMP need to complete the PDMP Dispenser Uploader Form (click here to access the form).
Click here to view the PDMP Dispenser's Guide.
Click here for the State of Nebraska's PDMP page for veterinarians.
Click here to view the NVMA Resource Page for PDMP preparedness.
---
Why Veterinarians Need to See More Geriatric Pets
Owners of these companion animals are a group of dedicated, devoted clients—and they're greatly in need of veterinary support. Unfortunately, geriatric pets are even worse than elusive cats when it comes to being seen in-clinic. Many are not seen enough during the last, crucial phase of their lives. Read More
---