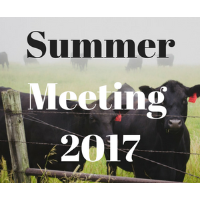 You still have time (three days including today) to get the early-registration discount for the NVMA Summer meeting, June 12-14, in Columbus.
You may register online or download a printable registration form.
Register now and take advantage of the Summer Meeting's excellent CE lineup.
Nebraska State Veterinarian Dr. Dennis Hughes will talk about Secure Food Supply Plans for Foreign Animal Diseases during his Tuesday, June 13, presentation. Dr. Megan Grobman presents both Tuesday and Wednesday, June 14, on the topic Clinical Respiratory Medicine in Small Animal Patients. Also on Wednesday, Dr. Joan Bowen will present on Practical Treatment of Common Sheep and Goat Diseases.
If you need guidance on the online registration, here's a one-minute video walkthrough of the registration process. Keep in mind that the cutoff date is May 22 for the $99.95 + tax room rate at the Ramada | River's Edge.
The early registration discount ends Friday, so please register now.
---