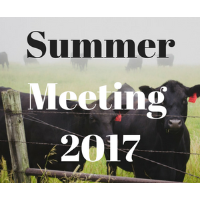 You have five days (including today) to get the early-registration discount for the NVMA Summer meeting, June 12-14, in Columbus.
You may register online or download a printable registration form.
If you need guidance on the online registration, here's a one-minute video walkthrough of the registration process. Keep in mind that the cutoff date is May 22 for the $99.95 + tax room rate at the Ramada | River's Edge.
The NVMA CE Committee assembled a powerful lineup for this meeting, including Dr. Jason Ahola, whose topic on Tuesday, June 13, is Current Topics and Management Strategies Associated with Low-cost Cow/calf Production. Also among CE presenters is Dr. Russell Rice, whose Tuesday topic is Enterohemorrhagic E.coli in Feedlot Heifers.
Complete your early registration and get the discount today.
---