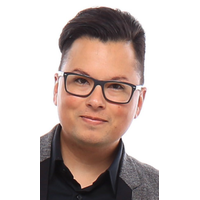 The technician continuing education session on Saturday, June 16, 2018 at the NVMA Summer Meeting deals with anesthesia and pain management.
The speaker is Stephen Cital, RVT, RLAT, SRA, VTS- LAM (Research Anes.), Veterinary Anesthetist, Silicon Valley Veterinary Specialists, San Jose, California (pictured).
Stephen originally started college to become a registered human nurse but did not enjoy working with humans as patients. Instead Stephen became an RVT and then obtained certification as a Surgical Research Anesthetist through the Academy of Surgical Research followed by the designation of a Registered Laboratory Animal Technician through the American Association of Laboratory Animal Science soon after.
Stephen is Executive Director for the Academy of Laboratory Animal Veterinary Technicians and Nurses, holding a VTS credential in Research Anesthesia. His regular daytime position is most recently at Silicon Valley Veterinary Specialists, as well as a private contractor for several research organizations. Stephen also holds positions at the Oakland Zoo and the San Francisco Zoo. He occupies his remaining time writing book chapters, is a column coordinator for one of Nature's journals, blogs for VetBloom and lectures internationally.
He enjoys teaching and serves on advisory boards for local Vet Tech colleges, is on the Aratana Technician Council of Pain Experts, helps run the Veterinary Anesthesia Nerds and Veterinary Cannabis Academy Facebook and webpages. Stephen has served as the President for the Society of Laboratory Animal Veterinary Technicians, Vice President for the California RVT Association and member at large for the National Association of Veterinary Technicians in America.
Here are the topics he will cover at the Summer Meeting:
Becoming an Anesthetic and Pain Cocktail Mixologist - This lecture will cover various anesthetic cocktails for total intravenous anesthesia. Solutions of analgesic constant rate infusions will also be discussed, followed by local anesthesia cocktails for longer durations and pain control.
Reading Between the Lines - This lecture will help you utilize your monitoring equipment to the fullest. We will discuss all the forgotten detail your SpO2 monitor is telling you, the meaning of those lines on a capnography tracing and new parameters you probably have but never appreciated.
Block the Box: Getting away from mask and box induction techniques - This lecture will provide practitioners with injectable sedation and induction cocktails to avoid using gas induction for exotic and/or small animal species. Gas induction is stressful and can lead to increased mortality rates while also being hazardous to staff. We will discuss the physiological impacts this outdated practice produces.
Pain Medications and How They Work - As technicians we are constantly told to give different regimens of pain medications to our patients, but do you know how they work or what you could be doing better? This lecture will cover common medications used in small animal practice, while touching on new pain alleviating medications coming down the line. Participants will leave knowing the basics and some helpful tricks when using multimodal approaches to pain medication selection.
The Summer Meeting is June 14-16, 2018, at the Veterinary Diagnostic Laboratory at the University of Nebraska-Lincoln. Early registration discounts are good through May 26.
---