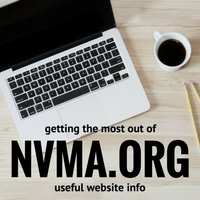 The NVMA Store link on the NVMA website is the home for Association e-commerce, where NVMA-related goods and services may be purchased.
Taking in order the links in the NVMA Store drop-down menu:
The Sponsorship link permits you to purchase an NVMA sponsorship package and take advantage of numerous Association marketing opportunities.
At the Advertising link, you will find opportunities for visibility with NVMA members through website and video advertising.
The Classifieds link is the Association's Classified Ads section. Here, you will find information about how to post your own ad.
Finally, you may purchase high-quality NVMA Branded Attire.
---