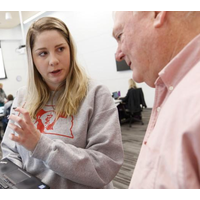 After the Nebraska Veterinary Diagnostic Center opened at the University of Nebraska-Lincoln in June 2017, its presence immediately benefited the state's animal producers with cutting-edge technology for quick diagnosis of diseases that have the potential to wipe out entire herds and livelihoods.
Soon after, students in the Professional Program in Veterinary Medicine also felt the advantages of the center. It offers a state-of-the-art classroom and laboratory and has become their home base for learning.
"We're in class 8 a.m. to 4 p.m. everyday," said Tina Novak, a second-year veterinary medicine student. "It's a benefit to have this dedicated space." Read more.
---
Roundtable on Opioid Shortage
Veterinary Practice News organized a roundtable discussion with five anesthesiologists and pain management experts to discuss the reasons behind the opioid shortage and best practices for identifying solutions to the problem. Read a transcript of the discussion here.
---
---