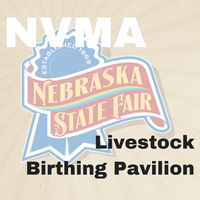 The NVMA is looking for volunteers to help in the Birthing Pavilion at the Nebraska State Fair. This is open to veterinarians, technicians and veterinary students.
The dates run from Friday, August 24 to Monday, September 3. There are three shifts per day that run 9 a.m. – 1 p.m., 1 p.m.– 5 p.m. and 5 p.m. – 9 p.m. A scrub top will be provided for you. The state fair will provide entry tickets for you and your family.
Please contact Dr. Missy Lemons at 308-382-6330 or Crystal Lewandowski at 308-382-6330 if you have any additional questions.
Thank you in advance for your continued support of this public awareness event.
---
SVMBS Continues to Evolve
Clayton Kelling, DVM, PhD, writes in the current issue of the NVMA quarterly newsletter Veterinary Views:
The Nebraska Veterinary Diagnostic Center had the opportunity to host the Summer NVMA Meeting, June 14-16, 2018. This meeting was a landmark event for our school that featured our new facilities. It was a great opportunity for NVMA members and our faculty to interact. We look forward to hosting future NVMA meetings.
The School of Veterinary Medicine and Biomedical Sciences continues to evolve as changes occur in our faculty as a result of retirements and strategic recruitment of new faculty. Read the full SVMBS update in Veterinary Views.
---