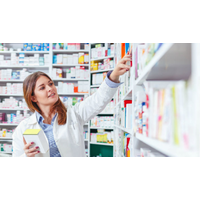 An increasing number of veterinary clients are choosing to fill pet prescriptions through human pharmacies; however, veterinary pharmacology is not a required component of pharmacology training programs in the United States.

A recent article in Pharmacy Practice evaluated the baseline knowledge of licensed pharmacists with regard to common pet toxins.
Investigators administered an online survey to all licensed pharmacists in the state of North Caroline during October and November 2015. Pharmacists were give a list of 25 substances and asked to evaluate the potential toxicity of each for either cat or dog. Respondents rated items on a 5-point scale, ranging from 1 ("not a poison emergency") to 5 ("very serious poison emergency"). The investigators considered ratings of 1 and 2 to be appropriate levels of concern for a non-toxin, while a rating of 3.5 and higher indicated appropriate concern for a true toxin. Read more here.
---