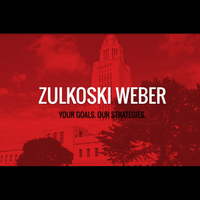 Happy Friday – we've all made it through one whole week with the Nebraska legislative session on pause. Even without official legislative progress, there are a few things you should know:
The Speaker has emailed his legislative colleagues that the Legislature will be called back into session next week for the very limited purpose of authorizing emergency COVID-19 funding. We anticipate this happening on Monday, but no official time has been set. Again, this is ONLY for passing emergency funding measures, and no other work will be set for discussion.

The Speaker intends to reconvene the Legislature "sometime after this '3-day emergency funding session' once the current COVID-19 situation in Nebraska stabilizes to complete the session, including the adoption of the state budget bills and the state claims bill."

Unfortunately, it is unclear at this point if and when non-emergency, non-budget-setting legislation will be taken back up.
Essential Business Update: You have likely seen other states taking steps to close or limit non-essential businesses. We are in contact with the Governor's office about this concern, and they have responded that they have no plans to limit private business, other than the restrictions already in place on bars, restaurants, and event spaces.
Please reach out if there are ways we can be of assistance during this time.
Katie and Michelle
---