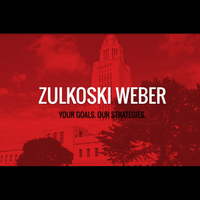 Is more always better? Or is more just more? The Nebraska Legislature this week spent three hours considering those and other questions as Speaker Scheer presented his Constitutional Amendment to allow the Legislature to add up to six new members, for a total of 55 Senators across the state. The amendment is intended to address the shrinking rural representation in our Legislature as the next round of redistricting approaches. However, there were plenty of nay-sayers, and Speaker Scheer's Constitutional proposal looks short of the support needed (30 votes) to pass the proposed amendment onto the ballot in order to let all of Nebraska decide.
A sprinkling of other bills were prioritized this week on issues ranging from turn-back taxes on water (the bill was debated but not yet advanced) to rural broadband (this bill has not yet been voted out of the prioritizing committee). Speaker Scheer continues his plea for more Senators to prioritize bills prior to this month's deadline (Feb. 21)—if the Unicameral doesn't begin debating priority bills soon, the Speaker estimates they may run out of time to address all of the priority issues on the floor.
With three weeks of hearings down and three to go, committees continue to pack their schedules with bills of consequence.
Next week, the Banking, Commerce, and Insurance Committee will consider LB988, a bill introduced by Senator Hilgers to change ownership provisions of certain health-related business entities. Senator Hilgers explains that he introduced LB988 as a way to start a conversation about the types of ownership allowed for a health care entity. The NVMA is opposing Senator Hilgers' bill as it reduces rather than expands the types of ownership structures allowed for a veterinary clinic. We will continue to work with Senator Hilgers on the language of the bill if it advances through the legislative process.
We will be able to pass along more information on the bill in next week's ZW Weekly following the Monday hearing.
CLICK HERE TO REVIEW THE BILLS OF INTEREST.
Cheers,
Katie and Michelle
---