NCSF Spring Scholarship Recipients
LEADERSHIP AWARD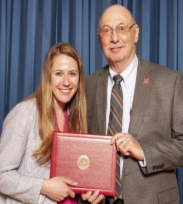 Elizabeth Forker has been named recipient of the 2019 NVMA Past Presidents' Leadership award.  She was presented with the certificate and $ 1,000 award at the spring awards ceremony by Dr. Dale Grotelueschen (photo at left).
To be selected as a recipient of this scholarship, a student must demonstrate a dedication to the principles of professionalism and ethical behavior, an ability and commitment to encourage others and to lead by example, and an interest in, and an aptitude for the advancement of organized veterinary medicine. 
Elizabeth is a second-year student in the Professional Program in Veterinary Medicine at the University of Nebraska-Lincoln.  During veterinary school, she has served as the president of the UNL Christian Veterinary Fellowship, the American Association of Bovine Veterinarians representative for the Large Animal Club, and the student representative for Boehringer Ingelheim.  Elizabeth is also a student member of the Academy of Veterinary Consultants, Nebraska Cattlemen, Student American Veterinary Medical Association, and Veterinary Business Management Association.  Prior to veterinary school, Elizabeth served as president of the Pre-veterinary Club and was selected to be a Nebraska Beef Ambassador and a National Beef Advocate.
NCSF/Boehringer-Ingelheim Awards
Receiving the first annual awards ($ 5,000 each) are three 2019 graduates of Iowa State University.
Ben Eilerts
Rachael Miller
Kara Sutphen
Ben Eilerts has secured employment with Nebraska Veterinary Services of West Point-Wisner-Howells where he will work with Dr. Steven Hughes, et. al. in their mixed animal practice.  Eilerts' responsibilities will emphasize the dairy ultrasound/reproduction and embryo transfer work, but also include the other aspects of the practice—feedlot, cow-calf, swine, small ruminant equine and small animal.
Rachael Miller has secured employment with Drs. Handcock, Voegeli, Covey and Heath at the Animal Clinic in Winner South Dakota.   This large mixed animal practice has livestock clients in several Nebraska Counties and Miller will be doing 90% beef cattle practice with the remainder in equine, small ruminant, swine and small animals. 
Kara Sutphen will begin her employment in Alliance, Nebraska in June of 2020, following a one year internship at the Idaho Equine Hospital in Nampa, Idaho.  Dr. Clint Kesterson, co-owner of the Alliance Animal Clinic, writes that Kara's post-graduate training in equine medicine will augment her beef cattle experience and training and better prepare her for the mixed animal practice in Alliance.
Pre-vet Scholarship Recipients 
Recipients of the 4 - $500 pre-veterinary scholarships are all sophomore students.
Tucker Randall UN-Lincoln

Korrine Hansen UN-Kearney

Allison Johnson UN-Lincoln

Austin Kennedy UN-Lincoln