The NVMA Newsletter
October - December 2018
Thanks to Birthing Pavilion Volunteers!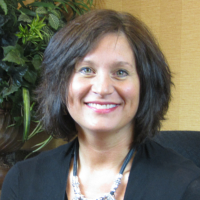 Victoria J. Winfield, DVM
NVMA President
With fall upon us, I am thankful for all of the Nebraska veterinarians who volunteered to help with the Birthing Pavilion at the State Fair.  I have heard nothing but wonderful comments from friends and clients who experienced it again this year!
The white coat ceremony at Iowa State proved to be a wonderful event for the incoming veterinary students. Thank you to all those who took time from their busy schedules to "coat" the incoming students and be present to support them as they begin their professional education. Dr. Winfield coats Kimberly Spartz (top) and Jessica Boelter (bottom) in the accompanying photos.
I am excited to report the PDMP program for veterinarians is doing much better than it was when I last wrote for this column. I spoke with the Department of Health and Human Services this week and was relieved to learn they have almost 300 hospitals and veterinarians reporting on the system in the state, as compared to the 26 registered in June.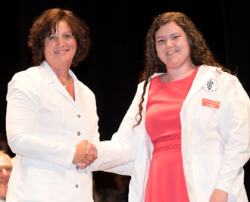 The comments they are hearing from veterinarians are encouraging, with most saying the system is easier to use than expected. I asked if there were specific areas where improvement could be made. The biggest one is due to the fact that each prescription needs its own unique prescription number. If the number is repeated, the newer one is deleted from the system and this causes problems for the dispensing prescriber. There is a "How to Guide" on the DHHS website for you to reference if you need information on how to assign unique numbers to the prescriptions you are registering.
Another point of confusion for some is how to find the NDC number on certain medication bottles, for example torbutrol. Felicia Quintana-Zinn with the DHHS would be happy to help with questions of this manner. You may call her directly at (402) 471-0379.  
Lastly, please be cognizant of how many days can be prescribed of the medication at one time. This, as well as the allowable number of refills in a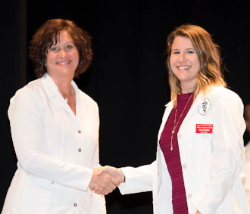 certain time frame, is based on the class of the medication, and the DEA website is a good source for this information.
On another note, several of you have approached me about how to find associate veterinarians to join your practice.  I have been made aware of a veterinary job fair being held through Kansas State University's College of Veterinary Medicine and Surgery on October 20, 2018.  If you are interested in more information, click here.
In closing, thank you again for this opportunity to serve you and our profession. I look forward to seeing you at the NVMA/UNL tailgate: watch for more details on this!  AND, if you haven't already, mark your calendar for the NVMA Annual Conference. We will be back in Kearney January 24-26, 2019.  See you there!
Grooms Named Dean at ISU CVM
Dan Grooms, professor and chair of the Department of Large Animal Clinical Sciences at Michigan State University, has been appointed the next Stephen G. Juelsgaard Dean of the College of Veterinary Medicine at Iowa State University.

"Dr. Grooms is an accomplished scientist, teacher and leader who will build on the college's reputation for excellence and the great achievements of our students, faculty and staff," said President Wendy Wintersteen. "I am confident he will also work effectively with veterinarians across the state, livestock and poultry producers and others who share our passion for animal and human health."

Grooms, an expert in bovine infectious diseases, earned a bachelor's degree in animal science from Cornell University and two degrees from The Ohio State University – a veterinary medicine degree and a Ph.D. in veterinary preventive medicine. He joined Michigan State in 1997.
AVMA Honor to Former NVMA Member T. Robert Bashara
SCHAUMBERG, Illinois — Dr. T. Robert Bashara of Omaha, Nebraska, is the recipient of the 2018 American Veterinary Medical Association Animal Welfare Award.



Dr. Bashara is founder of Gentle Doctor Animal Hospitals in and around Omaha. A long-time advocate for animal welfare, Dr. Bashara has had a national presence through his work with the Doris Day Animal Foundation, serving as Day's veterinary consultant and as chief financial officer for the foundation.

The AVMA Animal Welfare Award is presented to an AVMA member veterinarian in recognition of their achievement in advancing the welfare of animals via leadership, public service, education, research/product development, and advocacy. By doing so, the AVMA raises public awareness of the important role veterinarians play in improving understanding of animal welfare-related science, ensuring that animal use for human purposes is conducted responsibly, and attending to and promoting animal welfare within the context of responsible animal use. Dr. Bashara is a former member of the Nebraska Veterinary Medical Association.
Memorial Notices
John W. Ellis, DVM
John W. Ellis, DVM (87), Life member of the NVMA, died June 15, 2018.  He owned the Saddle Creek Veterinary Clinic in Omaha until he retired in 2000.  Dr. Ellis was a veteran of the US Army where he served for 2 years as a veterinarian officer on the Rabies Control Board and supervising the Small Animal Clinic.
Dr. Ellis is survived by his wife, Kathleen; four children and six grandchildren.
Memorials may be made to the Lutheran Church of the Master, 2617 S 114th Street, Omaha, NE  68114 or the Nebraska Humane Society, 8929 Fort Street, Omaha, NE  68134
Dr. Ellis' mailing address is 4768 S.153rd Street, Omaha, NE 68137
Richard James "Jim" Stava, DVM
Richard James "Jim" Stava, DVM, 86, Life Member of the NVMA, passed away July 27, 2018.
Memorials may be sent to Habitat for Humanity or the Morse Memorial Methodist Church.  Donations may be sent in care of Chamberlain-Pier Funeral Home, PO Box 366, Gordon, NE 69343.